With our canoe expedition launching next year I thought this to be a good time to refresh a key bit of equipment in my outdoor outfit: my personal buoyancy device. Until now I've typically borrowed PFD's from centres or friends when I've been out on the water, but given that this aspect of my outdoor pursuits in increasing in frequency I'm using it as a good excuse to finally buy my own! In this article I'll outline how I ready a PFD for backwoods travel, in unison with what I carry on my person.
The mentality I have when equipping my PDF is specific to the journey I'm planning for, in this case a four day wild camping trip in Scotland. As such I've elected to leave out any 'long term survival' items such as snare-wire or fishing kit in favour of a few items which will serve me well for short to mid term situation. Given that in the worse case scenario I'd be awaiting rescue for perhaps a day or overnight, and that we're no more than an hours paddle away from a road or settlement the equipment selected below is targeted at those immediate threats to safety. With all my planning for the outdoors I follow a similar pattern to help me prioritise my packing list.
Short Term Survival
At the core of this exercise is the worse case: if all else fails what is the absolute minimum I'd like to be able to do. In this case it is summon help, or allow rescuers to find me. And so with easy access I carry a loud whistle and a light. Constant companions for me are my Fox40 whistle and Photon microlight, usually on a line around my neck. Here though I've doubled up, so within my PDF is clipped a whistle and a torch (with spare battery). I also carry a knife, which I can open one handed, to cut myself free of any ropes or lines that
Moving on then, I tend to look at the risk factors and how I can make active steps to improve the consequences of those risks. Highest in my mind is the risk of hypothermia, especially given the water temperature and environmental conditions at that time of year in Scotland. I carry a survival bivi bag to help with this, it being orange also makes it highly visible to aid with rescue. These have been proven to help casualties in rescue situations but have a limited scope to improve your situation without rescue.
The ability then to make a fire in order to keep us warm and dry us out is paramount, and the key here is skill. Make no mistake it is your knowledge and ability to use the natural resources around you properly that will mean you can light that life saving fire. To bolster that skill though, I pack a waterproof bottle of storm matches with some critical tinder to get the fire lit. In a rescue situation the speed with which you can light a fire is important, it is not the time to be carving a bow drill set! Collect your wood, and light the fire. I assemble my own match-kit based on my preferences: matches and a strip of rubber work very well to get a fire lit in wet conditions. In my match-kit a also carry some waxed cotton wool, which will light from the match and burn for several minutes but will also lit from a Firesteel should disaster fall and my matches get wet. Once I have a fire the bivi bag can be repurposed as a tarp, and here we now start to improve our situation.
Following on we then have a few items that make life a little easier when out on the water, again if I'm stranded with only my PFD it would be very useful to have a light, be able to protect against the midges and sterilise water to drink.
Military field dressing- in its own waterproof package.
Vaseline- being exposed in open water to the wind and wet is hard on the hands and lips, it also double as a fantastic aid to fire lighting
Insect repellent- Nordic Summer is the best I've found
Rescue knife- I've found the Kershaw Injection 3.0 to be a slim yet robust knife, importantly that I can open one handed.
Beacon light- I like this little waterproof light by UST, it's small but makes for a great little lantern. I include it in my PFD as it has an SOS function.
Whistle- the one pictured isn't typically the one I take. I carry a Fox40 micro as it slim and impervious to the wet and cold. I do not recommend pea-whistles for outdoor use.
A couple of little stainless clips keep some of the items clipped together and attached to the PFD.
The Olight Baton S10R III. A fantastic, durable and waterproof torch in a small package. My favourite torch. This also had a strobe function for rescue.
Water Sterile Tablets- in a waterproof pouch. Having used this set up a few times now I think my next outing I'll also wrap a couple of metres of duct tape around this pack for repairs, it'll also help protect the tablets.
Mozzy head net
Waterproof Match Kit- my own assembly.
Spare battery for the Olight, which I carry in a waterproof pouch with no. 9.
A good length of high quality paracord, multi uses.
Also, I've attached a couple of Nitestick Glow Markers to the PFD, one on the front and one at the back (tucked under the webbing until I want to pull them out). These tough little glow sticks are surprisingly bright for their size, as we've been known to do a bit of night paddling it's good to be seen without having to use the torch.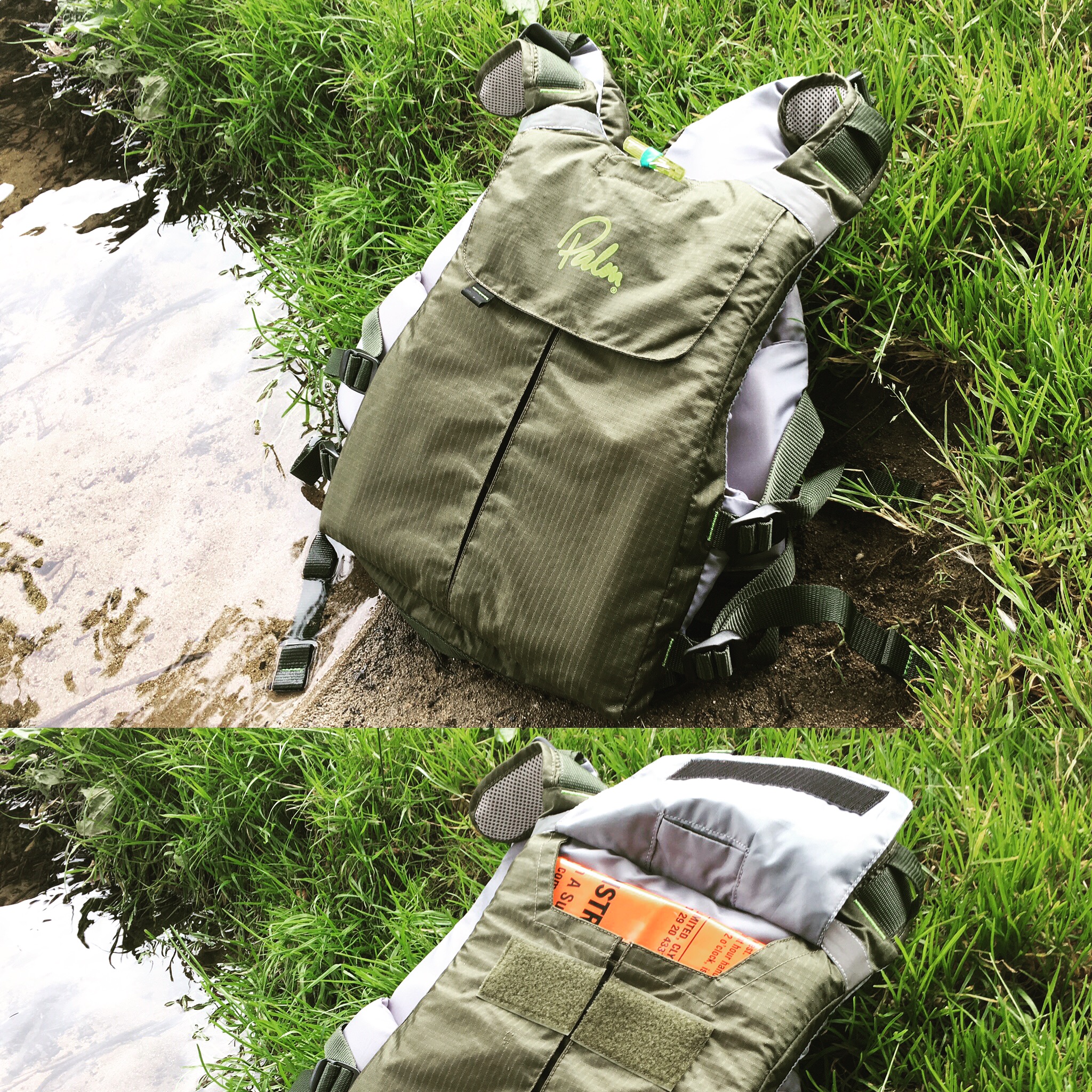 The large rear pocket is an excellent feature of this PFD, during a day trip it'll hold a water bladder and some snacks.
For me I'll be storing a Survival Bivi Bag in there, nice and flat so I can still portage with it on.
I hope you find this article useful, I'd love to hear what you think.
If you'd like further reading I highly recommend Ray Goodwin's book 'Canoeing' and 'Out on the Land' by Falt and Mears. The wealth of articles and videos by Paul Kirtley are also hugely inspirational.
If you'd like to go on a canoeing expedition check out our expeditions and our bushcraft courses too or drop me a message via the icon at the top of the page.
Links: